CHARACTER FIRST, COMPETITION SECOND
The youth sports program at the Y has four goals regardless of the skill level of each child: skill improvement; knowledge growth; character development; and most importantly fun. The youth sports programs are structured to provide each child an equal opportunity to improve.
Instructional Programs
Skill Progression

Game Knowledge

Character Development

Fun

Simulated Games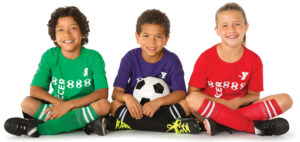 Each eight week instructional program is focused on giving each child an equal opportunity to improve in game fundamentals, game knowledge, sportsmanship and teamwork, appropriate competition, and most importantly fun.  As the program progresses from week to week, the instructors will be spending less time on instructional drills and more time on game strategy through simulated games.  Children are divided by grade level in each instructional program.
INTRO TO SPORTS for LITTLE'S
This program will focus on the basic components of multiple sports (ie. soccer, baseball, basketball) to give kids a basic foundation of each individual sport, as well as a comprehensive knowledge as to skills that cross over between sports.
Ages 6-9 years Sundays 11:00-11:45am
SPEED & AGILITY TRAINING
with Personal Trainer Tom, NASM, CPT
Are you looking to unlock your performance, improve muscle endurance, stabilize balance, prevent injury and learn correct joint movement? This intense speed & agility training program is just for you! 4 weeks (8 sessions) of intense work with Tom will help you reach your maximum acceleration speeds & top end gains, regardless of the sport(s) you play.
Open to all levels, ages 12 & up.
COMPREHENSIVE P.E. PROGRAM
This 8- week program is designed for kids ages 6-12 interested in enhancing their current level of fitness. Your child will have the opportunity to explore the fun of fitness with other kids their own age while participating in activities and games that help develop coordination, socialization, and group play. Activities include time in our gymnasium and outdoor fields (weather permitting).